Welcome to huntingdeerblinds.com
 Makers of Quality Cedar Deer Blinds Since 1993
What sets us apart from our competition? We are a leader in the deerblind and playhouse industry, striving for quality in our products and total customer satisfaction.
All Deerblinds Include
Blinds come with four pre-fabricated sectional walls, floor, and roof panel.  A hardware set up package is supplied on the doorwall.  The blind interiors are lined with black 15 lb. tar felt.  All have a hinged door which is 24″ wide by 68″ high located on the right side of the back wall.  The blind frame is constructed of 2″ by 2″ inch spruce lumber, providing a sturdy structure.  Floors have 3/4″ thick cedar boards nailed to a" 2″ by 2″ inch frame.  The sloped roof is covered with a 1/8 inch thick 90 lb. roll roofing  for lasting durability in all weather.  Floor, roof and wall sections can be handled easily by two people because they weigh approximately 65 lbs. each Total unit weight is approximately 400 lbs.  The easy to assemble deerblinds come in 6 complete panel sections including pre hung windows and door. Making it very easy to put together, because there is no cutting or measuring to do, It is all done for you.  Set the Floor on the ground, stand up the 4 deerblind was and set the roof panel on top nail a few nails in each of the deerblind sections to hold them together.  Our deerblinds will keep to comfortable from nature's cold and rainy weather, and will give you years of deer hunting enjoyment.
There was once a time when hunting was all about walking quietly through the woods and becoming invisible with nature in order to bag that next big buck. The deer today are smarter than ever before and so must be the hunters. With hunting blinds and deer blinds, you never have to worry about climbing that tree to capture your next prize.
Why Choose a Deer Blind?
Deer blinds are a safe and effective way to hunt outdoors. The deer hunting stand, while giving the hunter a different perspective on the land, tends to leave the hunter high up in the trees relying on straps and safety belts to keep safe. The deer blind brings the hunter back on to the ground where the most stable hunting environment is found.
The deer hunting blind also keeps you out of the elements. The hunting blind offers a roofed environment that is both dry and warm. In the coldest of months, wooden deer blinds are the perfect solution due to the ability to heat the space with a portable heater.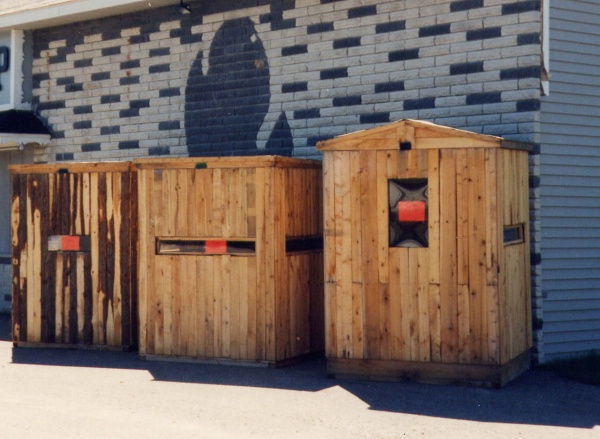 Deer hunting blinds can be used for both gun hunting and bow hunting. The blind openings are perfectly sized for the barrel of a gun or the broad head of a bow. This allows the hunter to see the deer approaching while keeping them out of sight and smell of the deer. When choosing an easy to setup deer blind, it is important to choose a high quality product that will withstand all forms of weather. Pop up deer blinds and fabric deer blinds tend to offer less protection than wooden deer blinds. A sloping roof is also important in order to allow rain and snow to fall away from the peaks of the roof.
Deer blinds are constructed from high quality materials like cedar  lumber, stone rolled  roofing, And plexiglass windows.  The easy to assemble blinds can be placed in a permanent location or picked up and moved as needed. The setup takes only 30 minutes  with the hunter getting years of safety and comfort out of the blind. Your next outdoor hunting adventure does not have to be a cold, wet and uncomfortable one. You can sit in style awaiting that next big bag from the comfort of your deer blind maximizing your time in the woods.