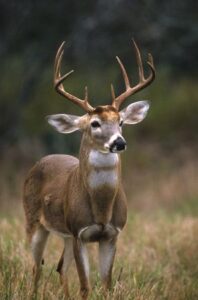 Despite early concerns about Chronic Wasting Disease, Michigan's deer hunting season has been largely successful this year, according to recent estimates from the Department of Natural Resources.
"Our harvest appears certainly up in the Upper Peninsula, and there are parts in the northern Lower and certainly southwest that appear up as well," said Michigan DNR deer management specialist Chad Stewart in a recent interview.
Over in Illinois, however, one lucky hunter may have had the best season of all.
Last month, during the first weekend of the Illinois shotgun season, Keith Szableswki of Johnston City took down a truly impressive buck that weighed in at about 265 pounds and could have as many as 51 scoreable points. If the count confirmed, it would break the current record which was set in 2016 by a 27-year-old farmer who shot a 47-point buck with a muzzleloader. Once the rack has dried, the points will be officially scored by a panel of judges in July at the Deer and Turkey Expo in Peoria, Illinois.
Szableswki has only been hunting deer for about four years, but he has been hunting waterfowl since he was in high school. The hunter plans to pedestal mount the buck, and he has donated most of the meat to local families in need.
"I took the deer to a processing center, and I'll get a little meat from it, and then I donated the rest to people that need it," he said in an interview. "I felt like I needed to."
Have some noteworthy experiences of your own that you'd like to share from this season? Leave us a reply in the comments section!