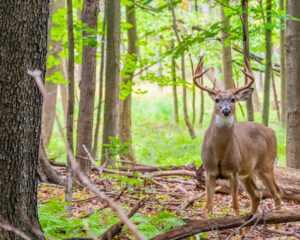 Hunting season is nearly upon us for 2022, and it's very important to make sure you're prepared with everything you will need to have a successful outing. This includes making sure you have all your equipment set up and purchased. But possibly the most important preparation for your hunting season is making sure your blind is set up in a timely manner ahead of opening day. Here are three reasons why it is very important to get your blind ordered and set up before the season starts.
1 – Time to Acclimate
If you are trying to be more successful than in past years, proper preparation is very important. This includes making sure your blind is set up early enough to make sure that the animals begin to recognize the blind as a part of their natural environment. Failure to allow deer, birds or other animals time to get used to your blind could cause the animals you're trying to hunt to change their movement patterns, meaning that you won't be as successful.
2 – Easier to Hunt
As Grandview Outdoors notes, it's a lot easier to hunt with a blind in areas that you cannot put up a tree stand or find a way to elevate yourself. Open fields or flat areas make it difficult to hide your own scent or mask your movements. However, by employing a blind, you can be hidden away while still keeping an open look at the space around you, allowing you to access your gear quicker without scaring your prey away.
3 – Easy to Set Up
The blinds offered for sale from Productive Cedar Products are easy to set up and transport. Our Cedar Rustic Deerblind, for example, is perfect for keeping you safe from the elements while blending in with the surrounding scenery. This gives you great camouflage so you can successfully take your shot. The blinds come in six complete panel sections that are easy to assemble on site, and can be shipped directly to your home or business by freight.
It is very important that you are able to place your blind in a place that has a view of animal traffic. If you place your blind in a low traffic area, then the chances of you catching anything will drastically drop. Take a bit of time to look in the area around where you are placing your blind to make sure that there are tracks in the area, and position your blind in a way that gives you a good view to have the best results.
The blinds offered by Productive Cedar Products are more than just shacks; they are a safer and more comfortable way to keep yourself hidden and protected from the elements during your hunting outings. Hunting season is coming up fast, so don't delay! Check out our different blinds online now, or call us today at 989-727-4902 to place your order.