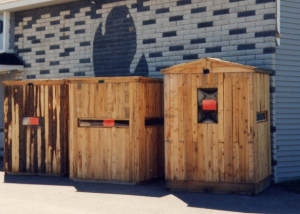 We've discussed some of the benefits deer blinds can offer to hunters out in the field here on the blog before. Keeping your location hidden is a great way to maintain the element of surprise while out on the hunt. The added protections this equipment offers from the elements can provide a lot of comfort during poor weather.
Keeping a few factors in mind when setting up your hunting blinds will help you get the most out of your hunting equipment.
1.Placement is Crucial for the Hunt
First, making sure that you have the best placement for your box blinds is crucial.  A downwind spot for a hunting blind will help you stay undetectable to game, especially large game. If bow hunting, you can position yourself a little closer, anywhere from 20 to 25 yards away from a path.
2. Staying Undetected During Your Hunt

Prepare your hunting ground blind site to make sure you stay undetected by game. Clearing away debris can keep the site comfortable for hours of sitting, but you can also use that material to further camouflage your site or weapon. Getting rid of brush also cuts down on the noise you can make while shifting your weight.
3. Blacked Out Clothing Always
Many hunters want to use camouflaged hunting clothes while tracking prey, but dark or black clothes are much preferable while in the box blinds. Even the little bit of light reflecting off of the greys or greens of camo clothing can help prey spot out someone against the black background of a hunting box blind.
4. Minimal Movement Detection with Screens
Use a screen in front of your hunting blind in order to further obfuscate your movements. You will have to shift your weight at least a little during your time on the hunt. Sitting behind a screen will help your movements blend into the background even more and dull the sharpness of your movements.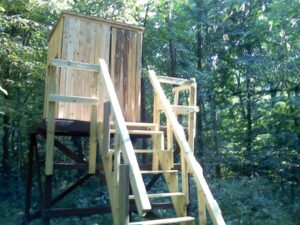 5. Bring Extra Gear with You
You should probably also bring a few items that will help make the hours sitting in the hunting blind much more comfortable. An extra jacket, some pillows or a sleeping bag can make the ground on which you sit much more comfortable. Also, make sure to bring some snacks, as once you're set in your hunting blind you'll want to stay there until you're through hunting, so as to draw very little attention to your site.
There are plenty of ways to make sure that your deer blind does a better job for you during your next hunt. Make sure to check back with our blog on a regular basis to learn new ways of maximizing your hunt and box blind usage. Contact Productive Cedar Products to learn more about our custom hunting deer blinds for purchase. Contact us today at 989-727-4902 or visit us online for more information!