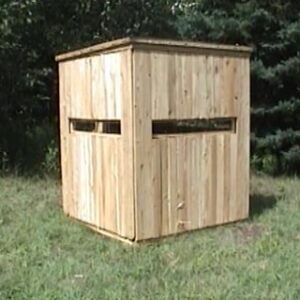 We're closing in on the end of September, which means there's only a little bit of time left before hunting season rolls around. One way to enhance your hunt this year is to invest in a hunting blind that will allow you to enjoy this season much more while keeping you comfortable. Now is the time to grab a new hunting blind before it's too late!
Productive Cedar Products Has What You Need
At Productive Cedar Products, we can provide you with the perfect hunting deer blinds for this upcoming season, but now is the time to invest because there is a 4-5 week wait on delivery due to the high demand this season. Hunting season is almost here, so it's important for you to make sure you're well-prepared, so you can get your kills this season!
The Benefits of a Hunting Blind
A hunting blind for hunting season could be make your life much easier as an avid hunter. It comes built, so all you have to do is set it up wherever you'd like on your property or hunting land. You can sit comfortably inside a hunting blind without having to deal with the weather elements that you may run into on your hunt.
Safe & Effective
No climbing Trees!
Shelter from Weather
Extend Your Season and Luck
Why Choose Productive Cedar Products?
Productive Cedar Products' hunting blinds are factory direct, which can be used for bow and rifle hunting. The shelter of the blinds will help protect you during rain and snow during the hunting season, so you don't have to worry about walking through terrible weather to hunt in. It's much easier to be content when you don't get your deer, but you stay warm and dry inside one of our hunting blinds.
If you're looking to enhance your hunting experience this season, please don't hesitate to contact Productive Cedar Products at 989-727-4902 today or visit us online for more information!