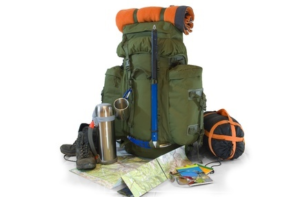 When you are out in the wilderness, waiting to get a good read on that treasured turkey or delicious deer, it is important to be equipped with the essentials. There are certain items that you should always have in your blind so you can be prepared for anything – and to stay comfortable during your watch. Here are seven tools that Field & Stream says every hunter should consider having in their blind.
Benchmade Clip Point Jungle 154BK Field Knife
Space can be at a bit of a premium in your blind, so you want to use your tools as wisely as possible. The Clip Point Jungle multi-tool from Benchmade is an excellent way to complete any task, from skinning your latest kill to opening a can of your favorite beans.
Lanterns come and go, but this magnificent lantern from Thermacell is in a class of its own. Not only does it light up the area with four lighting settings – convenient for heading to your blind in the early morning or back home at the end of the day – but it also burns the company's insect repeller mats, which can keep the bugs at bay for up to 12 hours in a small, 15-by-15-foot radius.
The EnerPlex Generatr is a great way to keep your powered items charged and ready during hunting season. Offering an impressive 1,231 watt hours of charge, this silent and emission-free battery can keep your smartphone powered and even keep a small mini-fridge or TV powered, meaning that you can bring creature comforts to your blind easily. Plus, at only about the size of a car battery, it will easily fit into your blind.
If you get hungry, this propane stove may be the ticket! It's great for boiling water in minutes, and it's perfect for heating up your stew and soups while in the field, meaning you don't need to retreat back to home base to refuel. The device also includes a tank stabilizer, lid and mesh carrying bag, making it incredibly convenient and easy to carry out to your blind and back again for cleaning.
Kestrel Drop D3 Environmental Logger
Have you ever looked up at the sky while sitting watch and thought that you might need to head in before you get rained on, only to get home and find sunny skies? Take some of the guesswork out of it with the Kestrel Drop D3. This handy device can pair with your smartphone to give you real-time weather conditions, so you can decide whether or not to wait out a storm, and can log all of your field observations to track conditions on each and every watch.
Bushnell PowerView RealTree AP Binoculars
Binoculars are always a great tool to have in your blind, and camouflaged PowerView binoculars from Bushnell don't just look good, they give you a good look! They offer 10x magnification and a rubber anti-slip grip, making them easy to handle even in wet conditions. Plus, the multicoated optical design allows you the pick up more light, which can mean the difference between seeing that buck in the tall brush or having him slip away.
Now that you have all of your supplies, it's time to get yourself a dependable and well-constructed deer blind from Productive Cedar Products. Our blinds are incredibly easy to assemble and are a perfect place to stand watch while hunting, protected from the rain and cold. Give us a call at 989-727-4902 and order the perfect cedar deer blind for your hunting season today!