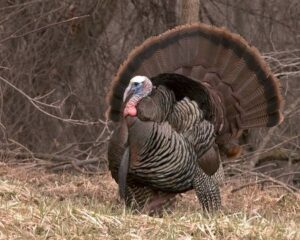 Hunting blinds are a great way to mask your presence from wildlife, such as turkeys, while staying warm and dry inclement hunting weather. Here are a few tips from Field & Stream to help you bring the turkeys to you.
Set Up a Good Camp
If you want to attract a turkey, start by making sure your blind is in an area that offers good shooting opportunities. From there, go ahead and place some decoys around that area to help lure in the turkeys as they will come in handy later.
Make the Call
Once you've established your blind, walk out about 20 to 30 feet from your camp and start turkey calling. Be sure to mix up the calls between box, mouth and pot calls, though, as this will help to attract all of the turkeys rather than a few. While making these calls, proceed to walk in a circle around your setup. By doing this, you are giving the illusion to other turkeys that you are one on the move, hopefully causing them to follow you. Once you discovered you have one's attention, slowly make your way back to the blind.
Wait for It
Now that you have a turkey following you, head back to your blind and get ready for it to walk toward your previously placed decoy. While they are walking, up you can either keep calling or stay silent – gauge your decision on how the turkeys are acting as they strut into view. Once the turkey is in perfect sight, line up your shot and fire.
Productive Cedar Products offers high-quality cedar deer blinds that can be used for hunting not just deer, but also small game and fowl hunts. Our shelters help to keep you out of view and protect you from the elements. To learn more about our range of blinds or for information on our available products, call us today at 989-727-4902.