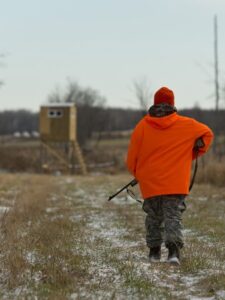 Good news, fellow sportsmen. The numbers are in, and the Michigan Department of National Resources has identified the 2014 hunting seasons as the safest to date. Last year, there were no hunting related fatalities reported in Michigan and only ten reported hunting incidents.
The DNR credits the expansion of Michigan's hunting education program with the decline of hunting incidents over the last few years. "Michigan's hunter education program, and the dedicated volunteer instructors who are the backbone of it, is a big reason we have been experiencing a low number of hunting incidents, "said the DNR's Sgt. Tom Wanless in a recent interview.
In addition to its in-person hunting education programs, the Michigan DNR offers a number of online courses for hunters who want to learn more about field safety protocols. These courses are available both to experienced adults and young hunters first learning the basics of hunting safety. They also offer separate classes that teach techniques specific to trapping and bow hunting.
Nearly a quarter of a million base hunting licenses were issued in 2014. With only 10 hunting incidents reported last year, Michigan's hunting injury rate per license currently stands at just one one-thousandth of a percent. Not too shabby!
According to a recent article published by Michigan Radio, hunting accidents in Michigan peaked in 1987 and have steadily decreased since then.
Of course, we must recognize the seasoned hunters who have volunteered their time and hard work to make Michigan a safer place to hunt. Want to become a volunteer? It's easy to apply. Just check out the Michigan DNR's contact page for interested hunters.
Ready to make 2015 an even better year of hunting? Stop in today and find out how our custom crafted hunting blinds can help.
[msh_feedburner]